Admin
Event Coordinator
Community Manager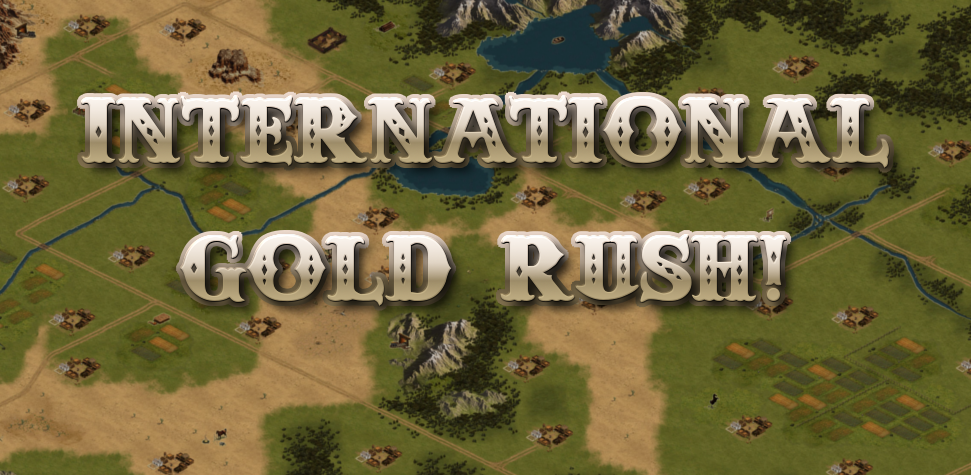 ​
Quick, quick, quick - Hurry!
Our new event is finally here, our
International Gold Rush
! The fast with the mind and quick on the draw need only apply!
It has been some months since we hosted the International Fort Battle Championship, second in line with be our very first International speed server.
I'm sure many of you have participated in a speed server already and are quite familiar with the basic mechanics. Our International Speed server will be similar with slight adjustments to accommodate more multiplayer and roleplaying aspects.
Not only that, the previous event, a lot of the background work was done for the players, which inadvertently made the world and ruling a lot more stricter than we intended - this time around we are allowing the players to register and create their game as they see fit. Of course, there are some rules and guidelines that will need to be followed.
It's time to forget the donkey and mount your quarter horse, you going to need to be as quick as possible! Did I mention, there are plenty of categories and prizes to win!
For a period of 30 days, you will be able to access a world where everything is in fast forward mode. Now there is a slight catch, the times it takes to duel and do jobs, fort battles and quest requirements - these stay the same. The amount of cash, experience points, travelling will be enhanced for you benefit. This will allow you to level up quicker, purchase items quicker, find products to finish quests quicker etc...
The event will run from August, 15th (between 10:00 and 15:00 CEST) until September, 14th, 23:59 CEST.
Link to the server:
https://events.the-west.net/
As I mentioned, we have some superb prizes for you speed devils out there! The largest of the prize pool consists of the players who gain the most
Experience Points
over the
30 day period
. This will be split into two categories as follows:
Premium players
versus
Non-Premium players
:
1st place:
2000 Nuggets + set (clothes/weapons/animal+saddle)
2nd place:
1500 Nuggets + set (clothes)
3rd place:
1000 Nuggets + weapons set
You read correctly, there will be two first, second and third place winners. Those who spend nuggets and those who do not spend nuggets. Be careful though, spending a login bonus will put you into the nugget player category.
The second largest portion of the prize pool are awarded to players that have the most
Achievement Points
.
Premium players
versus
Non-Premium players
:
1st place:
2000 Nuggets + special hat + neck item
2nd place:
1200 Nuggets
3rd place:
500 Nuggets
Be careful though, spending a login bonus will put you into the nugget player category.
A prize of
500 Nuggets
will be awarded to the player with the
most cash banked
on their character.
A prize of
1000 Nuggets + weapon's set
will be awarded to the player with the most
Duel Points
.
But that's not all. Included in the price pool will also be towns with the most town points. As follows:
1st place town:
500 Bonds + 100 nuggets
to all members and
Speedy Gonzales title
2nd place town:
500 Bonds
to all members and
Speedy Gonzales title
Prizes will also be awarded to the town that has the most cash in their town treasury -
500 bonds
to each member.
As you can see, there are many ways to win in such an event which cater for a lot of different playstyles - a lot of the prizes focus on multiplayer and organization. To make the most of the event, these will be two vital elements to participate in.
The Bonus that will be applied to this world will be as follows:
Money from Jobs:
1000%
Experience Points from Jobs:
1000%
Luck at Jobs:
500%
Drop chance from Jobs:
1000%
Speed:
1500%
Energy Regeneration:
750%
Health Regeneration:
750%
Work Motivation:
750%
Duel Motivation:
750%
Duel Damage:
200%
Labor Points:
500%
100%
being the normal setting as you know it in our regular game.
Have any questions? First read the
FAQ
below and if you still need it feel free to to ask or even share an opinion in our
Discussion Thread
.
All current Game Rules apply to the event server. This includes Data Protection Provisions and General terms and conditions. Any rule violations, including communication violations will be treated as if you were playing on your home server.
If you have been permanently banned due to a very serious infraction, you do not have the opportunity to return to the event. With an event, a rule violation can cause irreversible damage and allowing you back into the game will be seen as 'unfair' towards the rest of the players participating in the event. You may appeal the ban, and a detailed explanation will be provided.
Communication: You may use your own language in town profiles, fort profiles, your own profiles etc... We would like to urge you to use English in the Saloon chatrooms as this is a public room and we would like everyone to understand what is said in these rooms.
Bank transfer is set to be OFF in the Gold Rush world. There are prizes being awarded in the cash category and using the market for the sole purpose to transfer cash will be seen as a rule violation and your in-game cash will be reverted to 0 $. Any in-game cash placed in the town treasury of a town will be removed if the cash was gained illegally.
Towns: When entering the world, you may participate in all features available to you. This includes Towns. You are not forced to join a town from your home server (It is recommended), but you are free to join or found any town. Remember, teamwork is vital if you wish to win some of the prizes on offer. Be wise!
Alliances are allowed, but they yield no prizes in this event.
Market Trading: As mentioned already, we will be very strict on the market and content placed there. The market is only to be used for trading purposes which excludes the ability to transfer large sums of cash from one player to another. All items that can be placed on the market will be restricted to double the buy value only.
There are a number of categories you can win in. You may win in as many as possible and will be rewarded accordingly. There are two main categories though, Premium and non-Premium for the winners in Experience Points and Achievement Points. If a single nugget is deducted from your account for any in-game purchase, you automatically fall into the Premium category. This will not be reversed if mistakes happen - Please be very careful where you click.
The world Gold Rush will be a Full Premium World.
Fort Battles are allowed. Please note, multiple fort battles dug in quick succession will cost considerably more in-game cash.
The Travelling Fair will be deactivated.
Thank you for playing The West!
Sincerely,
Your The West Team